---
Children are more and more drawn to connected devices. Not only computers and laptops, but also smartphones and tablets provide full Internet access to young users, wherever and whenever they want. As a parent, you can't always monitor what your kid is doing online, whether he's in bed at night or in school in the daytime.
Is he reading a blog promoting eating disorders, looking at explicit content or using that free gambling app with in-app purchases again? How can you protect your child from being exposed to harmful content? You can't always be by your child's side while he browses the Web, that's a fact.
Enters Witigo Parental Filter for Android, the parental control app. Witigo filters out pornographic websites, restricts online purchases, allows parents to define browsing schedules by day and by hour and even to define Which telephone numbers can contact their kid on his device (voice calls and SMS) from a remote dashboard. Anytime, anywhere. The parental filter can be customized, in order to adjust filtering level to the kid's profile. Parents can also allow Web access only when all the homework is done! Witigo Parental Filter for Android is an all-in-one mobile parental control app that will protect your kid from harmful content and allow him to browse the Internet safely, with a fully secure browser.
---
Main advantages of
Witigo Parental Filter

for Android
| | |
| --- | --- |
| | Intelligent Web filtering engine, based on ICE technology (Intelligent Content Evaluation) which analyses and filters the content of Web pages in real time. |
| | Custom settings, unblocking of sites visited, activity reports accessible remotely from any device connected to the Internet. |
| | Management console (cloud) common to all your devices protected by Witigo solutions on Android, iOS and Mac OS. |
| | Secure access to management panel |
| | Filtering choices from 27 categories of inappropriate content for children: pornography, anorexia, online shopping etc. |
| | Scheduled Internet access restriction |
---
How does
the filtering software
work?
---
---
Filtering categories
Pornography
Sexuality
Violent sites
Controversial views on racial / ethnic / religious / political / social groups
Weapons
Drugs- Alcohol - Tobacco
Video
Sect
Anorexia
Downloads
Warez
Gambling
Blog
Chats - Forums
Games forbidden to people under 18
Auctions
Purchase
Social networks
News
Sports sites
Advertisements
Music
Radio-TV
Web-Mails
Dating
Travel - Tourism
Online games
---
CERTIFICATIONS
In 2015, Witigo received the
OPSWAT Certification
thus ensuring product quality and making sure it does not conflict with other software.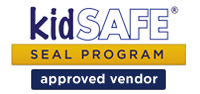 Witigo received the "Approved Vendor" certification in 2014 from the
kidSAFE
Seal Program,
rewarding products helping to ensure a safe usage of technologies and web sites for children.